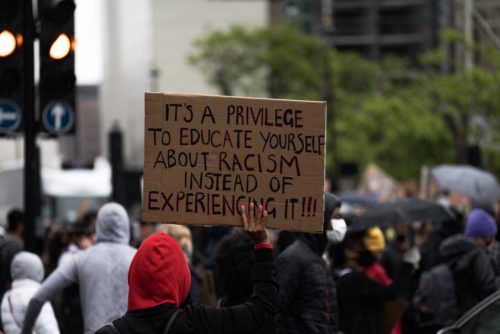 Dear Readers,
My original plan for my first post on the new and improved website was to tell you all about my plans for future content and newsletters in a post riddled with happy images and exclamation points.
I'm really not feeling that messaging at the moment.
For now, I just want to share some videos and articles that have been helpful to me over the last few weeks as I've worked to fill in my own vast blind spots regarding racism and learn how to be an ally in the way I live… not just in the words I say. This list is curated with white people in mind.
I recently saw this piece from NPR, Why Now, White People? My boyfriend and I have been discussing this a lot, swapping theories as to why this wave of the BLM movement has found such a sharp increase in support. There are a lot of interesting reasons suggested here, but the one that's particularly important to me is this one:
"[O]ne motivating factor that I am not proud of but that I have recognized as relevant — in my personal circle, a larger number of white people are speaking up, and unconsciously I think that makes it feel safer and more important to care," one person wrote. "I recognize that this is highly highly problematic… [b]ut I wouldn't be telling the truth if I didn't recognize this as a layer of this moment for me."
While I have shared some personal thoughts on racism on social media in the past few weeks, I have been slower and more analytical about what I say today than I have been in the past. This time around, I'm been hyper-aware that I'm at risk of saying the wrong thing, centering myself in the fight, or coming off as more performative than sincere.
I think those are all legitimate reasons to speak carefully. But I needed this reminder from NPR that it's important to show people where I stand. Even if we are not particularly eloquent or powerful as individuals, our voices still carry weight with the people in our communities.
To that end, I've collected these resources that have helped me get better at recognizing when it's appropriate to speak and how to speak with more understanding.These are resources that provide context our history classes never gave us, resources that clarify what we're talking about when we talk about systemic racism, resources that dig into the matter of police reform, and resources of the "What do I actually do, though?" variety.
Before we leap in, I want to acknowledge to my white readers that allyship is painful. Yes, it is significantly less painful than living as the victim of a racist system, which is why we should probably keep all conversations regarding white pain within the white community. People of color have been tip-toeing around white feelings for centuries. We can keep our feelings out of their way for once.
However, I do believe white people should talk about their challenges out loud with each other. The guilt we feel. The embarrassment over past missteps. The gut twist of talking race with loved ones. The fear of saying the wrong thing or the "so white" thing. That constant, quiet ache . . . the realization that our own friends and neighbors do not feel valued, seen, or protected because we have done virtually nothing to nurture a societal relationship that communicates value, acknowledgment, and safety.
And that's to say nothing of the fact that people who should not be dead are dead, and that this has been happening systematically, regularly for centuries without a single interruption to white daily life. That's a pain I don't know how to talk about. You might be in the same boat.
I say we should talk about these feelings with each other, because not talking about them makes the feelings expand beneath the surface until they become a source of shame and a force to avoid. We got here because of avoidance. If we hope to move forward, we need to partner with one another, give each other space to feel what we feel, and agree to toughen up together so we can be better partners to those outside our race.
Finally, if you're a white ally who has been in this fight a while, I ask that you please be patient with those who are dipping a toe in. Remember that we all started out a little delicate. We all made long, righteous speeches about privilege on social media before we fully realized how complicated this fight is. We all did our best then, we're still wildly imperfect now, and hopefully we're still doing the work to make sure our best gets better.
Now for some resources.
Lists of resources and action steps generously compiled by people who know more than me:
75 Things White People Can Do for Racial Justice
Statistics and resources related to mental health issues affecting Black communities (Sunshine Behavioral Health)
Robin DiAngelo also has some resources for you.
Putting the Black Lives Matter movement in context:
Absolutely essential background on one of the many ways those in powers have deliberately orchestrated a "Black people are a threat" narrative.
Please don't miss this history on the origin of the police, which is deliberately entwined with a mission to keep Black people and poor white people under control by asserting white superiority. (Thank you, Ahmed H. Ahmed.)
A little perspective on protesting, rioting, and looting from author Kimberly Jones.
And in case you don't know what she's talking about (most of us didn't learn about the Tulsa Massacre in school), here's a little background.
'But what about black on black crime?" (Thank you, Michael Harriot)
Walmart, CVS, and Walgreens have been locking up Black beauty products this whole time and I never even noticed.
California's Surgeon General on the high coronavirus transmission rates within the Black community and the health effects of trauma and racism.
Lonnie Chavis explains what it's like to be famous and upstanding and twelve . . . and still get the side-eye like you're a criminal.
On allyship and personal relationships:
5 Things That Aren't Allyship and What You Can Do Instead (Thank you, Holiday Phillips)
On personal Black/white relationships: When those well-intentioned check-ins are actually a burden on Black friends . . . and why they might feel a little insincere. (Thank you, Devon Kidd)
And on that note, here's another piece that challenge's our (white people's) deep wish that our love and empathy would carry weight. Emotional presence is simply not enough right now. (Thank you, Chad Sanders)
"The awakening to anti-black racism everyone else is having right now has a profoundly complicated emotional effect on black folks." Read this one all the way to the end for an example of non-invasive white allyship. (Thank you, Amika Cooper)
I recommend the book White Fragility for any white person who is struggling with complicated feelings and is a little confused about what is meant when seemingly neutral institutions or individuals are accused of being racist. In the meantime, here's a super quick interview with the author to help you start processing.
For the literary crowd:
For those who want to support Black-owned businesses and are committed to long-term anti-racism, Fulton Street Books & Coffee in Tulsa offers an Ally Box subscription.
Some thoughts on how our bookshelves influence our perspectives.
Regarding the police:
What would it actually mean to defund the police?
The Obama Foundation put together some resources for understanding police violence and working towards a safer and more just world
Some stats on police violence.
Here's some really interesting insight on police training and culture. The author is a former police officer and speaks in absolutes. But even if you find that jarring, I encourage you to read all the way through, as he does acknowledge the psychological burdens placed on police officers. They're just not exactly the burdens we tend to assume they are.
Most of the resources in this list exist because Black people spent the time and did the work to set us off on the right path. It's our turn now. Let's stay vocal, let's stay active, and let's absolutely 100% stay curious. Because our white educational system, cultural traditions, and storytelling has not and will not give us the context we need to understand what our Black neighbors have been up against for centuries.
And we need to stop asking Black people to explain it for us.
If any of your favorite resources are missing from this list, please share in the comments.
And in the interest of not merely suggesting it, allow me to state this truth directly and outright:
Black Lives Matter. Black lives are precious. Black lives deserve our attention.